Why I attended civil fraud trial against me – Trump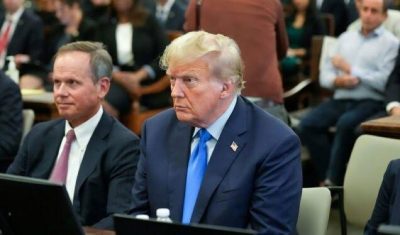 Former United States President, Donald Trump on Monday said he attended the civil fraud trial against him because he wanted to watch the 'witch-hunt' against him.
Trump is facing a civil lawsuit and a fine of $250m for alleged fraud committed through the Trump Organization.
He appeared in court in New York court on Monday to face charges.
Trump and his co-defendants – including his two adult sons – are accused of inflating prices of their properties to secure better loans and insurance deals, and to pay less tax.
The former president spoke outside the courtroom with newsmen where he denied the allegations and called the lawsuit a politically motivated "witch hunt"
The CNN reports that Trump was not required to appear in court Monday for the trial against him, his eldest sons, their companies and Trump Organization executives.
But he chose to attend and sit in the Manhattan courtroom – while giving multiple statements attacking the proceedings as he entered and exited.
"I've been going through a witch hunt for years, but this is really now getting dirty between (special counsel) Jack Smith, and between all of these DOJ people helping them along.
"This is a pure witch-hunt for purposes of interfering with the elections of the United States of America. It's totally illegal," he said.
Judge Arthur Engoron found Trump liable for one fraud claim last week.
New York prosecutors claim Trump deceived banks, insurers and others by largely overvaluing his assets and exaggerating his net worth
The New York attorney general is seeking a hefty $250m fine and a ban on Trump from doing business in his home state.