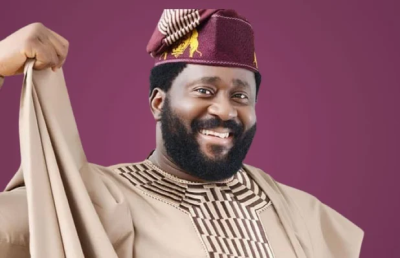 Desmond Elliot, the actor-turned-politician, has once again won his bid to represent the people of the Surulere constituency at the Lagos state house of assembly.
Elliot, who contested on the platform of the All Progressive Congress (APC), won his reelection bid after securing 17,837 votes to defeat Adebayo Bode of the Labour Party (LP) who polled 7,822 votes.
Thompson Sulaimon Abolaji of the Peoples Democratic Party (PDP) followed after Bode with 1,045 votes.
In the wake of his victory, Elliot has been spotted in a viral video celebrating with his fans in Surulere.
The actor's supporters could be heard chanting in Yourba that "they voted and won".
Elliot also appreciated Femi Gbajabiamila, the speaker of the house of representatives, for his support towards a successful outing in the state assembly election in Surulere.
In September 2014, the movie star declared his intention to run for Lagos state house of assembly under the APC.
He contested and won the Surulere constituency in the April 11, 2015 elections.
Elliot's nomination by APC for a second term came unopposed as well as the third.
In the past few years, the politician has been on the receiving end of social media criticism.
In 2020, the lawmaker was criticised after he declared that he "is a product of political godfatherism."
Also, following the shooting of protesters at the Lekki toll gate in the same year, a video of Elliot referring to #EndSARS activists as "children" at the Lagos state assembly surfaced.
The politician was thereafter labeled "Nigeria Twitter's number one scapegoat", with memes and banter from youths straying his way.
The lawmaker recently extended an olive branch to the Nigerian youth over his controversial comments in 2020.
"I'm still apologising to those who must have misconstrued what I said, I said I was taken by emotions," he said.
"But, in the end, it still didn't take away from the facts, the hatred is too much, the polity, the hatred is too much." (The Cable)